Meols Past and Present
23/12/2019
Morning Haze
When I moved to Wallasey in 2010, i was very lucky to have this wonderful coastline on my doorstep,
i literally have a 2 minute walk to the beach which gives me a great opportunity to take some of the
best sunsets you are likely to see, close by is Perch Rock Lighthouse, which i will cover in another blog.
I'm going back 9 years ago when i found Meol's Beach which lies on the Wirral Peninsula between Hoylake
and Wallasey, just off the A553. At low tide the small stretch of shingle beach here becomes a wide expanse
of sand and mudflats. It's also home to around 25 boats which can be accessible when the tide goes out.
The very first boat i shot there was called the Morning Haze (Picture1) this was always anchored close to the
bank and always faced with the sun behind it, unfortunately i didn't get many more images of this boat as the
owner passed away soon after this shot and the boat was removed off the beach and sold.
Sue
The next boat i favoured was called "Sue" this become a particular favourite of mine, the reason being it was always
in a channel of water even at low tide, so it was ideal to catch some lovely reflections on a nice calm day. Sue (Picture 2)
was on the beach for around 4 years and my images of this boat was getting some attention, particularly from a lady
called Susan Cramer Stein who lived in Utah Salt Lake City, Susan was planning to come to England to do some
street photography in London and then come to New Brighton and meet up with me, 18 months planning and it
happened, Susan had some wonderful evenings photographing the North West Coast, but her favourite location was Meol's
Beach. Since then Susan and her Husband came back this year 2019 for 4 days and unfortunately i was just recovering from
a serious illness, so i was very restricted to the time i could spend with them.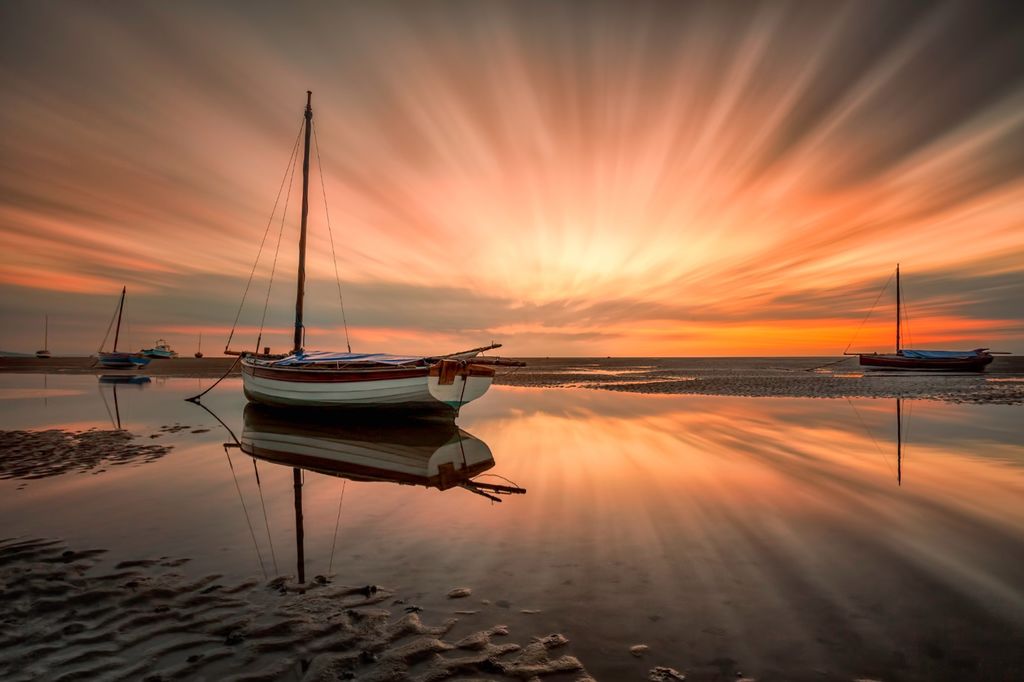 Blinded By The Light
Blinded by the Light (Picture 3) was taken on a perfect sunset with exceptional cloud movement, as the sun went below the
horizon, with the use of an ND filter i managed an outrageous exposure of 1,000 seconds and this was the finished result.
One particular evening i was home on my computer and a lady was asking for people to vote for her image in a competition,
i obliged and give her my vote, but i thought i may as well enter an image and see how it goes, so i entered this image
Blinded by the Light and 3 days later i received a phone call from a guy with a broad Irish accent, telling me i had won the competition,
i couldn't believe it, but he then went on to ask me where i had taken the shot, i told him and he said you do realise this was an
Irish competition and people were moaning saying no way this was taken in Ireland, i laughed and apologised for not looking at the
competition rules, they still honoured me first prize and said it blew the judges away.
Jeanius
"Jeanius" (Picture 4) arrived on the beach and only stayed 2 days, I have never seen it since, luckily I manage to get this image,
a perfect calm evening with a perfect sunset. This image was picked up by Skylum Software, now Luminar,
they asked if i could submit a before and after image using Luminar 2018 software, they
used it on there promotional video for the launch of there new software.
Time and Tide
Time and Tide (Picture 5) was picked up on my Flickr page, this was featured in a New York based magazine called Shutterbug
(August 2017) Barry Tanenbaum contacted me and had a lengthy chat over the phone regarding the whole process
of how and where i took the image.
Solitude
Solitude (Picture 6) was online Picture of the Week in the September (2018) Amateur Photographer Magazine,
conditions were perfect, calm and nice light, ideal for reflections.
Proper Job 2
Proper Job 2 (Picture 7) i would say was the most photographed boat on the beach in 2019. It was located
around about 40 feet from the slipway, and for the owner Bob Beech it was very much his livelihood, until some
freak weather tipped it on its side and destroyed it in October this year. Some good news has come out of it
though, its a very close community in Hoylake and numerous functions and raffles are being arranged
to try and get Bob seaworthy again.